Breakfast Talk with Arlin Teguh: Sense Of Entitlement
Breakfast Talk with Arlin Teguh: Sense Of Entitlement
Kamis, 20 Pebruari 2020 pada 05:06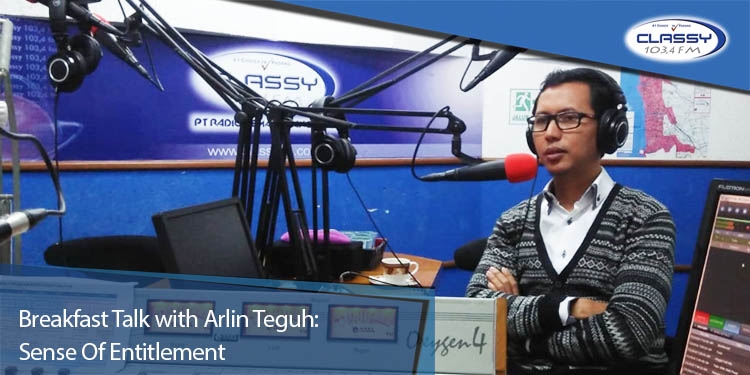 Classy People, hari ini, Senin 02 September 2019, dalam program Breakfast Talk with Arlin Teguh kita membahas tentang Sense Of Entitlement. Perasaan bahwa kita merasa berhak akan sesuatu. Hal ini kadang-kadang membuat kita kecewa karena merasa berhak mendapatkan sesuatu.
Kalau Anda ingin menjadi orang besar, belajarlah menjadi kram atau pipa, jangan belajar jadi ember. Maksudnya? Ember berarti menampung, dan menampung ada batasnya. Tapi kalau Anda jadi penyalur tidak ada batas maksimal, karena apapun yang ada disalurkan.
Kita perlu merasa lepas dan tidak merasa terikat kepada suatu hal agar dapat dengan mudah untuk melepaskan dan membiarkan sesuatu yang lebih baik menggantikannya suatu hari.
(rewrite : Wici Elvinda Rahmaddina)