Radio Classy FM Padang Sabet Dua Penghargaan Bergengsi Anugerah KPID 2021
Radio Classy FM Padang Sabet Dua Penghargaan Bergengsi Anugerah KPID 2021
Minggu, 03 Desember 2023 pada 02:18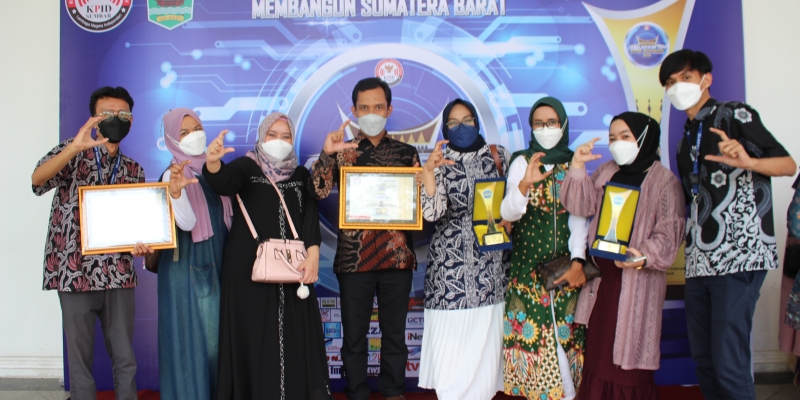 Radio Classy FM Padang kembali menyabet dua penghargaan bergengsi dari Komisi Penyiaran Indonesia Daerah (KPID) Sumatera Barat tahun ini. Dua penghargaan itu yakni penghargaan kategori Program Berita Terbaik dan Iklan Layanan Masyarakat Terbaik.
Dua penghargaan itu diterima pada ajang penganugerahan KPID Sumatera Barat pada Selasa, 21 Desember 2021 di aula gubenuran Sumatera Barat. Radio Manager Classy FM, Yeni Maiasnita mengatakan, penghargaan yang diraih bukan tanpa usaha baginya bersama tim.
"Classy FM menekankan peningkatan Sumber Daya Manusia (SDM), untuk bisa konsisten menghasilkan program program terbaik bagi pendengarnya. Kami ingin kemampuan yang dimiliki oleh sumber daya bagian produksi seragam. Karena itu Classy FM rutin mengadakan pelatihan, training ataupun workshop setiap bulannya dengan menghadirkan trainer dan mentor internal ataupun eksternal," katanya saat dihubungi di Padang Kamis, 23 Desember 2021.
Ia mengatakan, pihaknya juga membekali para penyiar, produser dan reporter dengan bermacam ilmu dengan harapan bermanfaat dalam menghasilkan produk radio yang baik.
"Selain itu, Classy FM menerapkan system quality control yang ketat. Evaluasi terhadap program dan penyiar rutin dilakukan, untuk memastikan kualitas siaran dan program sesuai dengan ketentuan yang telah ditetapkan Classy FM. Jika ada kekurangan, maka mentor akan memberitahukan poin mana yang harus ditingkatkan atau diperbaiki sehingga tidak terjadi kesalahan yang sama di produksi selanjutnya," jelasnya.
Penyiar terbaik tahun 2020 ini juga memastikan bahwa sejak awal berdirinya Classy FM, program berita selalu menjadi kekuatan utama. "Sementara untuk iklan layanan masyarakat, ini juga menjadi concern kami. Salah satu filosofi yang dipegang oleh Classy FM adalah mengedukasi pendengar. Iklan Layanan Masyarakat salah satu cara kami mengedukasi masyarakat. Topik yang diangkat di iklan masyarakat yang kami produksi beragam, pemutarannya disesuaikan dengan kondisi dan isu yang lagi hangat," terangnya.
Selain peningkatan SDM, program-program yang dikemas pun tidak hanya asal. Sebelum sebuah program di on airkan, program dipersiapkan sebaik mungkin.
"Kami akan menunjuk satu orang produser yang akan bertanggung jawab mengurus program tersebut. Produser akan memikirkan topik terbaik, narasumber yang paing tepat hingga menyusun pertanyaan yang akan diajukan. Host atau penyiar yang akan membawakan program harus mempelajari terlebih dahulu bahan siaran yang akan dibawakannya," paparnya.
Selain itu, Radio Classy FM juga menerapkan system right man in the right place. Penunjukkan host atau penyiar disuatu program mempertimbangkan kemampuan yang bersangkutan, referensi kesukaan, pengetahuan tentang program yang akan dibawakan.
"Yang paling penting, ketika sebuah program diputuskan on air di Radio Classy FM, niatnya adalah memberikan yang terbaik kepada pendengar," tuturnya.
Pandemi dan Program Radio
Pandemi yang melanda dunia hampir dua tahun ini membuat radio dengan tagline 'First Choice in Padang ' ini juga terlibat aktif. Hal ini terlihat dari program-program yang disajikan kepada pendengar.
"Tentu saja kami juga tidak melewatkan kesempatan untuk berpartisipasi dan berperan dalam semua program terbaik yang dilakukan pemerintah. Terlebih Classy FM sudah dinobatkan sebagai Radio Cerdas Bencana. Artinya Classy FM punya concern serius dalam hal ini. Covid 19 adalah bencana non alam. Dari awal pandemic terjadi Classy FM langsung melakukan penyesuaian program," paparnya.
Selain itu, pihaknya juga menyusun program yang mengedepankan informasi benar dan terpercaya terkait covid. Hal ini agar masyarakat tidak terjebak berita tidak benar atau hoax.
"Termasuk informasi tentang vaksin yang sedang gencar di galakkan pemerintah. Kami melakukan wawancara dengan banyak pihak terkait dan kompeten untuk memberikan informasi paling tepat tentang vaksinasi, mengimbau masyarakat untuk ikut melaksanakan vaksinasi. Selain itu kami juga rutin menyiarkan informasi dalam bentuk insert atau info pendek," jelasnya.
The Spirit of Giving
Meaning perusahaan Classy FM adalah Spirit of giving the best. Ini menjadi dasar pihaknya dalam bertindak dan berkarya di Classy FM.
"Apapun yang kami lakukan maka kami akan berupaya memberikan yang terbaik. Karena itu kami membentuk sistem yang baik agar ini bisa terlaksana dengan baik," katanya.
Selain itu, pihaknya memastikan sumber daya yang dimiliki handal dibidangnya masing masing. Tiap orang yang terlibat dalam produksi program akan mengeluarkan potensi terbaiknya.
"Kami akan sangat puas ketika program yang kami hadirkan dinikmati dan disukai oleh masyarakat. Dibutuhkan, mengedukasi dan bisa menjawab keingingan masyarakat. Agar bisa memproduksi program terbaik, evaluasi adalah kuncinya. Ini yang rutin kami lakukan di Classy FM," jelasnya.
Pihaknya berharap Classy FM selalu dicintai oleh pendengar setianya. Bisa menjadi teman setia bagi masyarakat kota Padang, Sumatera Barat atau dimanapun pendengar mendengarkan Classy FM.
"Karena di era digital seperti sekarang, Classy FM juga bisa dengarkan dimana saja melalui aplikasi Classy FM. Kami juga berharap, bisa terus memberikan informasi yang menghibur, mengedukasi dan dibutuhkan oleh masyarakat. Penghargaan penghargaan yang kami dapatkan kami dedikasikan untuk pendengar yang selalu setia. Terimakasih telah menjadi bagian tidak terpisahkan dalam perjalanan Classy FM," ucapnya.
Dalam perjalanannya selama 21 tahun, Radio Classy FM telah memperoleh banyak penghargaan, diantaranya:
1. Anugerah KPID Kategori "Program Berita Radio Terbaik" dan "Penyiar Radio Terbaik" 2020
2. Nominasi "Program Siaran Peduli Anak" Anugerah Komisi Penyiar Indonesia 2020
3. Anugerah KPID Kategori "Talk Show Radio Terbaik" 2019
4. Anugerah KPID Kategori "Iklan Layanan Masyarakat Terbaik" 2018
5. Anugerah KPID Kategori "Talk Show Terbaik" 2016
6. Pioneer Keselamatan Berlalu Lintas dari Pemerintah Provinsi Sumatera Barat dan Ditlantas Polda Sumatera Barat 2015
7. Platinum Certificate Indonesian CSR Award (ICA) 2011 dan 2014 sebagai Radio Siaga Bencana
8. Piagam Siddhakarya 2010 Dinas Tenaga Kerja dan Provinsi Sumbar untuk Kualitas dan Produktifitas
9. Certificate of Achievement, kategori Berita Radio dari Badan Penggulangan Bencana Daerah Sumatera Barat 2019
10. Juara III Lomba Karya Jurnalistik Kategori Radio pada Hari Pers Nasional 2018
Editor: Fitria Marlina